Ok got the Revoltech Neo Airi figure. It doesn't come with the Assembleborg though...Also note that Airi is called "The Maid/Maiden of Temptation", well the word MAID has a double meaning, MEIDO(メイド) also means 'Hell or Hades'.
Also Warning NSFW images ahead!
Box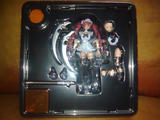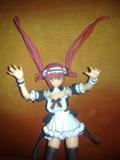 Man look at the size of those BOOBS!!! So big...
Here's the battle damage dress.
Extra battle damage leg.
Extra "OUCH" or hurt emotion face that you can interchange.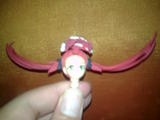 No TwinTails!
Good and bad part about this figure is that it's cast off, the bad part is taking off the plastic clothing...it's a big pain to cast off Airi's clothing than Leina's!
Ok here's the Cast Off!
NSFW!!!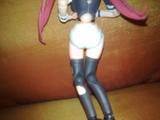 The bad part is that her middle torso is a ball joint.
The good part is that her panties can be cast off!!!
And yes she's
VERY WELL DETAILED!
Final words...well keep Airi dressed, she looks better as a maid in the non-damage and battle damage outfit, her weapon is awesome and the blue flame attachment to her twintails are great!